Clear blue waters & golden sands mixed with modern luxury & comfort. Mykonos Palace Beach Hotel is only a few steps to heaven, within a few seconds you find yourself on a pristine beach. The beach front luxury hotel offers it's guests immediate access to a stunning coastline and pristine waters.
This was our first time to Mykonos and I hadn't been to Greece for almost 15 years, we did some research prior to our trip and had difficulty deciding between Santorini and Mykonos. We ended up choosing Mykonos and made the decision to plan our visit in mid-October (mid-May through June is also a good time to visit), we immediately noticed that the island was very relaxed during this time and most restaurants and hotel properties were still operating during this period.
At the airport there are normal taxis running to the hotel but it's recommended that you arrange transportation with the hotel (only EUR 10 each way).
I had never stayed at a beach-front hotel like this before – and must confess, I was quite curious since many hotels claim to be located on the beach or have spectacular ocean views — but Mykonos Palace sure has that view and you won't be disappointed! They are literally steps from the sand.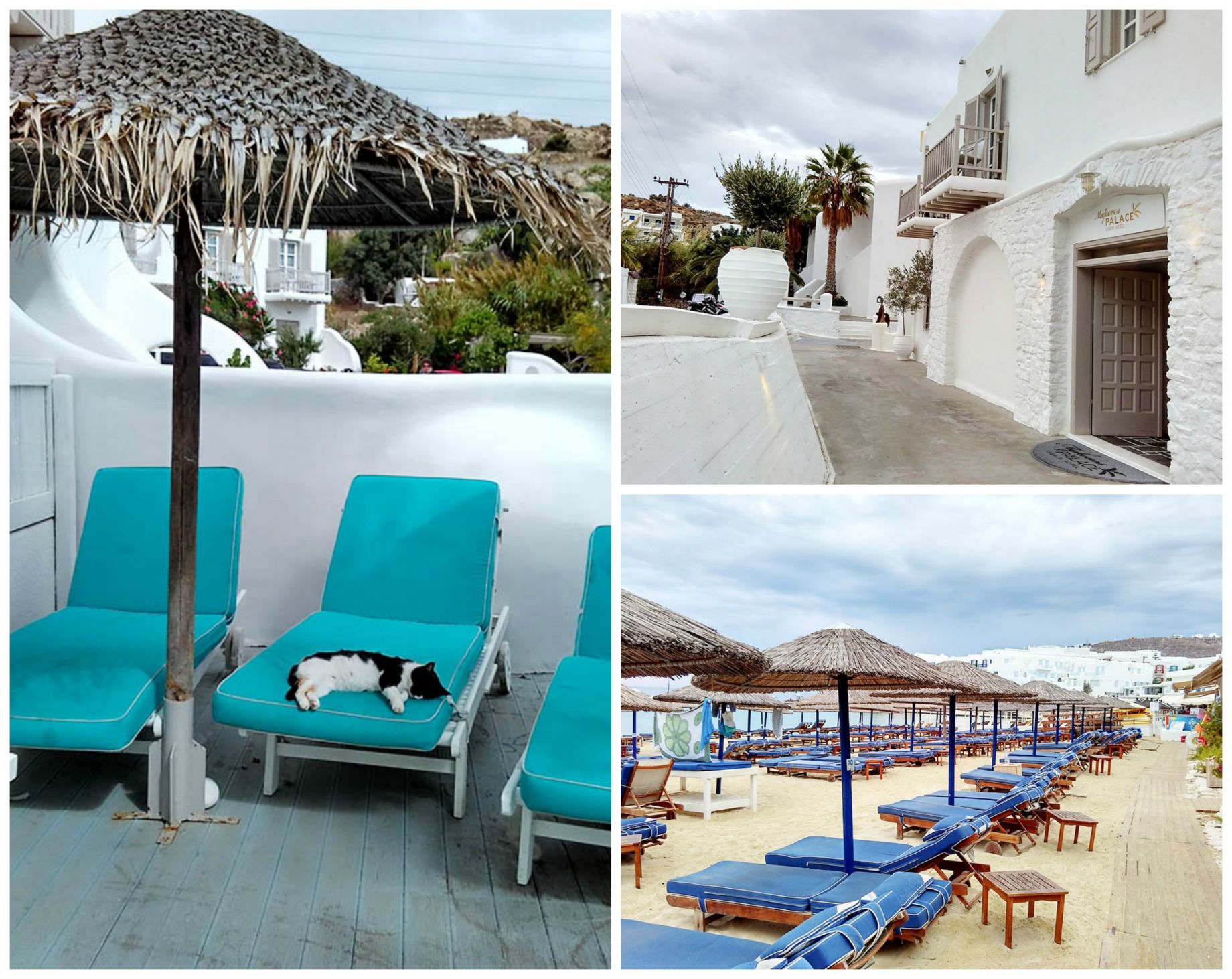 Checking in and Mykonos weather in late October
The hotel staff were very responsive to my questions via email, but to be honest, I didn't have that many to start with! Our plan was simple. Relax at the beach! And relaxing we did! It rained a couple of times during our stay, fortunately it cleared up fast every time. We enjoyed exploring the area around the hotel. Once inside, we found the decor pleasant and the reception spacious. Elpida, the Front Desk Manager let us know that they would renovate the entire hotel in order to become a five-star property. Meanwhile, the check-in was handled as we had our welcome drink and got connected to the Wifi.
We had an excellent (efficient and friendly) welcome by the reception, who showed us around and escorted us to the room. The doorman took care of our luggage. It was all very efficient and relaxed. Another nice touch to mention is that upon arrival, I was addressed by name by Elpida and the other staff. Our suite was booked only a couple of days before check-in and I was very excited to see that we had a room with a view right onto the beach!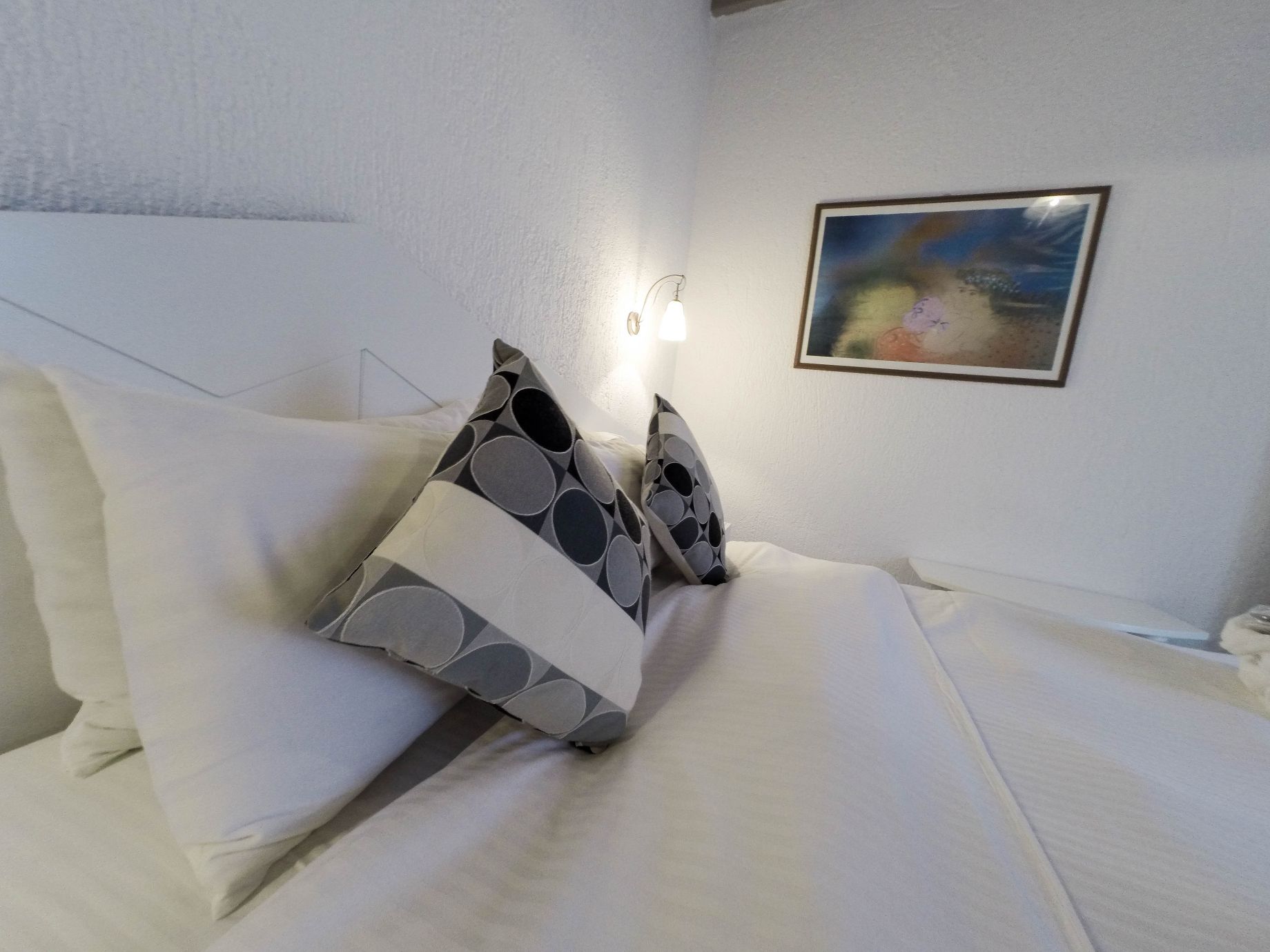 The whole Mykonos Palace Beach Hotel team was super friendly and helpful. We really felt at home. The cozy rooms all have air-conditioning, a small cable TV, refrigerators and free WI-FI internet connection. Our room was pleasant and the bathroom was spacious (a combined bathtub and shower), all with good water pressure and locally produced soaps. There weren't any iPhone docks or USB plugs in the room but enough wall sockets. Coffee and Tea were offered in the room along with a small magazine selection. Rather than having a coffee in your room, I would recommend trying their Greek Coffee on the restaurant's terrace among the beautiful flowers and friendly cats. Although the room was pleasant for a 4-star hotel I couldn't help imagine the changes they would be making. I wondered what a modern Greek bathroom could look like with an authentic Myconian architectural style.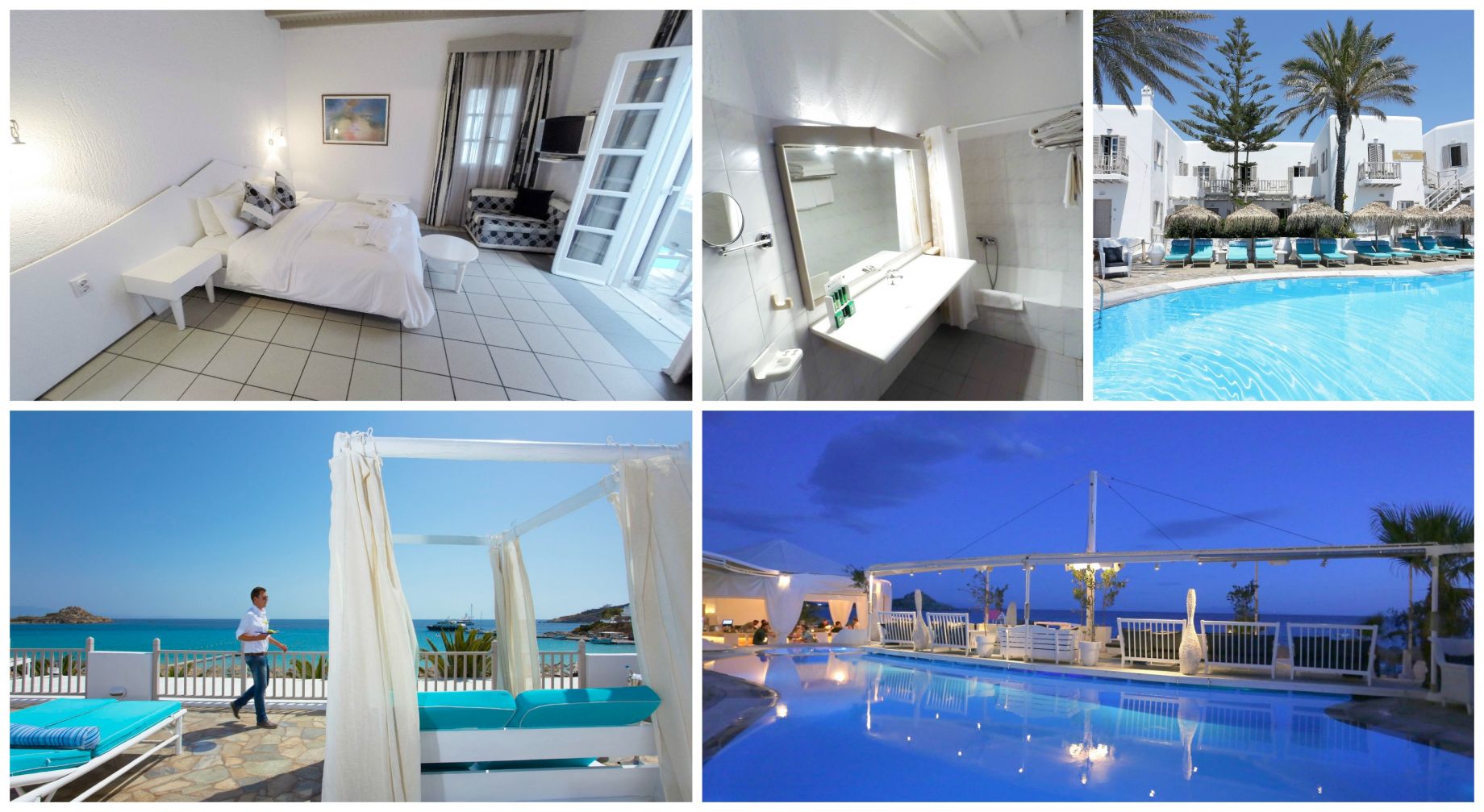 It's really great to stay in a property that's right one the beach
There are plenty of options for sun-bathing: soak up the sun at one of the pool beds or relax on the sea-side beds. Both areas have an amazing sea view.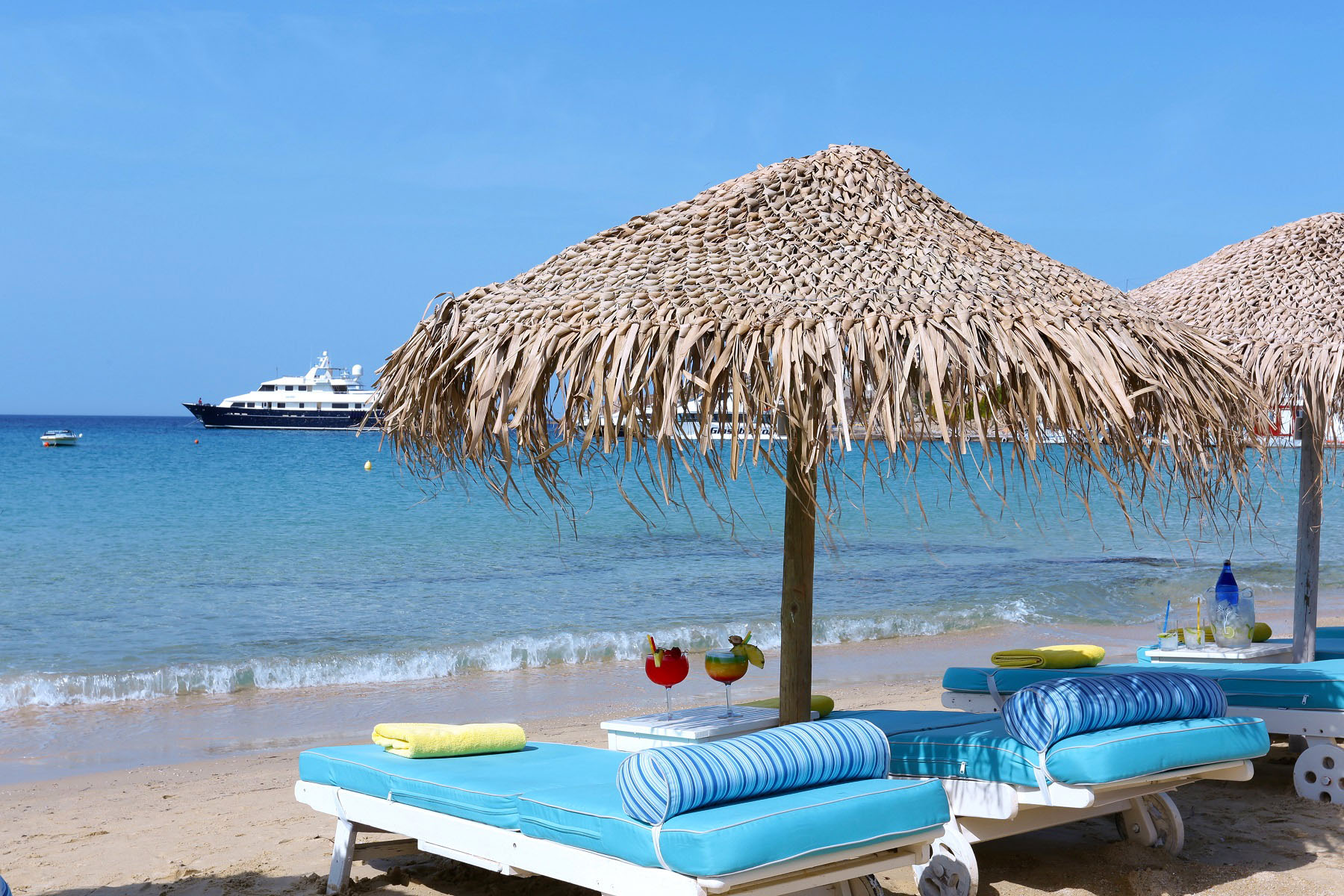 I had breakfast one morning at Notos, the main restaurant at the hotel and I also really enjoyed it. It was also included in the room rate. The variety of foods was very good, there were a large number of fruits, cereals, eggs, sausages and sweets such as muffins.
Lunch at the Notos Restaurant. Try the local food!
In the afternoon, we tried the Notos Lunch menu, which was absolutely delicious and affordable. We had a local variation of the Moussaka made with eggplant- (aubergine), potato and ground beef. The other main dish we ordered was the Chicken Souvlaki and it was the best one we had on the island.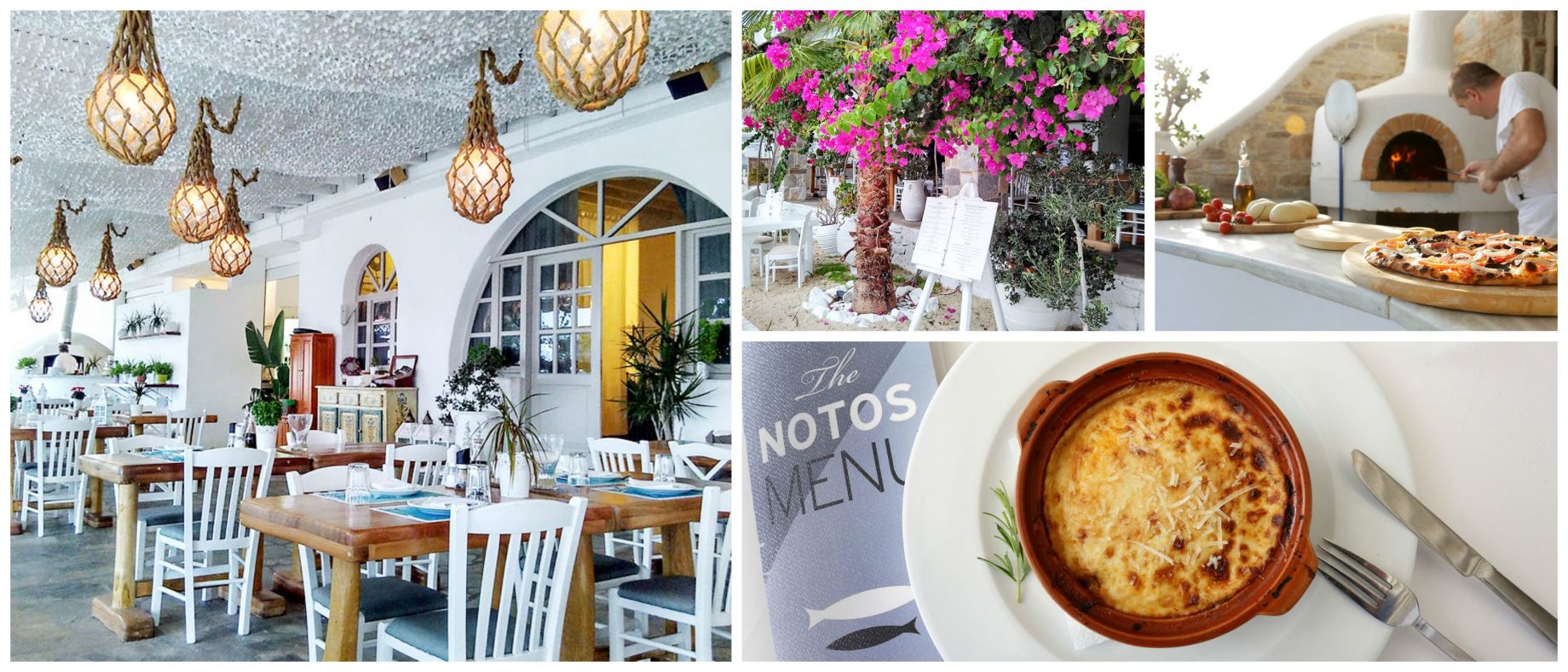 Visiting this part of Greece was great fun — we really enjoyed ourselves. The hotel was outstanding and the food was delicious.
Mykonos Palace Beach Hotel
Platis Gialos Beach #313 84600 Mykonos, Greece
+30 22890 26988